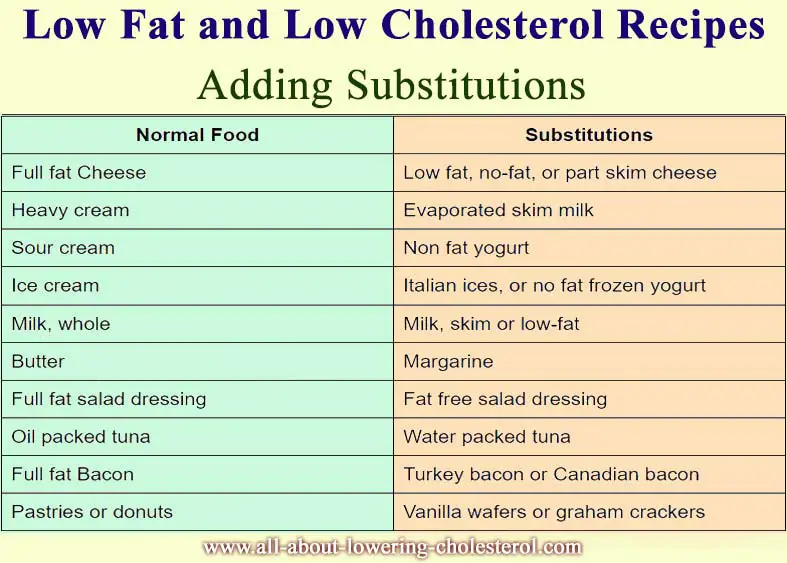 Low fat and low cholesterol recipes do not have to be boring or bland. You can use real cheeses and tasty seasonings to spice up any meal and even enjoy treats and snacks.
The secret is to learn how to remove meals and foods with saturated fats and substitute low fat and low cholesterol recipes and food items full of flavor.
Low Fat and Low Cholesterol Recipes And Substitutions
You will love eating a healthy diet when you learn how to add in the right foods that are naturally good for your body. By following the recommendations below, you can significantly lower the unhealthy (saturated) fats in your diet and lower your blood cholesterol level without feeling deprived.
Instead of eating: Eat
Full fat Cheese: Low fat, no-fat, or part-skim cheese
Heavy cream: Evaporated skim milk
Sour cream: Non-fat yogurt
Ice cream: Sherbet, Italian ices, or no-fat frozen yogurt
Milk, whole: Milk, skim, or low-fat
Butter: Margarine
Full-fat salad dressing: Fat-free salad dressing
Eggs Egg whites or egg substitute:
Oil packed tuna: Water packed tuna
Full fat Bacon: Turkey bacon or Canadian bacon
Chocolate Fat-free fudgesicles, non-fat hot cocoa:
Cake: Angel Food Cake
Pastries or donuts: Vanilla wafers or graham crackers
Chips: Pretzels or air-pop
popcorn:
You should see many food substitutions you can enjoy as tasty treats or when preparing low fat and low cholesterol recipes. 
Low Fat and Low Cholesterol Recipes Help You Take Control
If your doctor has told you to cut down on saturated fats and reduce the amount of cholesterol you are consuming, you may initially react with fear. With a little knowledge, you will not need to give up eating for enjoyment and many of your favorite foods have delicious substitutions.
The good news is that healthy eating is not new and much low fat and low cholesterol recipes surface every day making eating healthy fun, fresh, and delicious.
By making a few substitutions to your current diet and staying mindful of your diet, you can make great strides toward lowering your total cholesterol count and boosting your HDL (good) cholesterol numbers.
Low Fat and Low Cholesterol Recipes – Tasty Stewed Chicken
You are ready to change your diet and we want to help you. Each of the 4 servings in this recipe contains 197 calories, 5 grams of total fat, 1 gram of saturated fat, 0 grams of trans fat, 0.5 grams of polyunsaturated fat, 3 grams of monounsaturated fat, 66 mg of cholesterol, 414 mg of sodium, 10 grams of carb, 3 grams of fiber, 4 grams of sugar, and 28 grams of protein.
Tasty Stewed Chicken
1 lb chicken breast, sliced into tenders (remove all fat and skin)
1 tsp. extra virgin olive oil
1 green pepper, medium, cut into thick strips
2 shallots, cut into quarters
1-14.5 oz. can no-sodium diced tomatoes, do not drain
½ cup no-fat, no-sodium chicken broth
¼ cup olives, chopped
1 tsp. dried oregano
1 tsp. lemon zest, grated
2 Tbsp. lemon juice
¼ tsp. salt, optional
¼ tsp. pepper
1/8 tsp. ground cinnamon
Heat the extra virgin olive oil in a pan or skillet. Set your stove to medium-high heat. Cook the chicken tenders on each side for approximately 2 minutes per side.
Add the green pepper and shallot quarters. Cook for 2 more minutes and stir occasionally.
Add the remaining ingredients. Reduce your heat to simmer. Cover the skillet with a lid and allow the chicken to cook for 25 to 30 minutes. Check the chicken to make sure the center is no longer pink.
This and similar low fat and low cholesterol recipes can be enjoyed with a side salad, broccoli or steamed brown rice.
Leave low fat and low cholesterol recipes,and get more information about low cholesterol recipes.
Also visit our home page of All About Lowering Cholesterol.
References:
(1) UCSF Medical Center (2011). Recipe modification ideas for low cholesterol, low saturated fat diet.