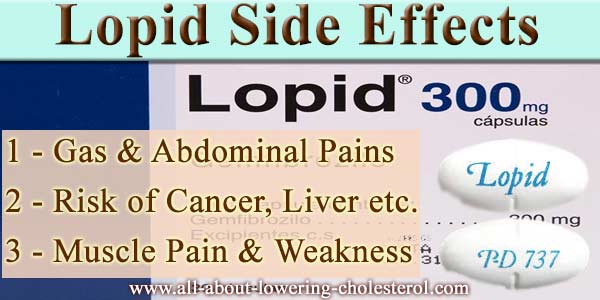 If you use Lopid understand that it will lower cholesterol but Lopid side effects probably may not be worth it.
This article will help you understand fully its side effects, and provide other alternatives to lower cholesterol safely.
Lopid was extensively studied in Finland and clearly lowers the cholesterol & triglycerides and so risk of heart attack and stroke. However, the side effects of Lopid are several.
Lopid Side Effects 1 – Gas & Abdominal Pains
Initially, the limiting factor in most patients is gas and abdominal complaints. This will persist as long as the drug is taken. Long-term, liver, kidney, and bone marrow toxicity have been reported, although are uncommon.
Monitoring of blood counts, and liver and kidney function should be done regularly and the drug discontinued changes in any of these organ systems.
Results of a large study using gemfibrozil seem to show that it may cause a higher rate of some cancers in humans. In addition, the action of gemfibrozil is similar to that of another medicine called clofibrate.
Lopid Side Effects 2 – Risk of Cancer, Liver, etc.
Studies with clofibrate have suggested that it may increase the patient's risk of cancer, liver disease, pancreatitis (inflammation of the pancreas), gallstones, and problems from gallbladder surgery, although it may also decrease the risk of heart attacks.
Lopid Side Effects & Drug Reactions 3 – Muscle Pain & Weakness
Among the main Lopid, drug reactions are Rhabdomyolysis. It is muscle pain and weakness – this was the condition developed by people on Baycol, which in the end was "voluntarily" withdrawn from the market.
Rhabdomyolysis has occurred with combined gemfibrozil and lovastatin therapy. If you use Lopid together with another statin drug for lowering cholesterol, you may develop severe muscle pain and weakness.
You can see this as early as 3 weeks after initiation of combined therapy or after several months.
In most people who have had an unsatisfactory lipid response to either drug alone, the possible benefit of combined therapy with lovastatin and gemfibrozil is not worth the risks of severe myopathy, rhabdomyolysis, and acute renal failure.
Alternatives to Lopid
While it is imperative to lower your cholesterol levels, remember that Lopid and other cholesterol-lowering drugs are not the only solutions to lowering your cholesterol levels.
Sometimes even a simple change of diet and exercising regularly may lower your cholesterol levels. However, you may look at other alternatives, which are proven to lower cholesterol and most importantly without Lopid side effects.
However, let's just explain one of the most successful substances that lower cholesterol – policosanol. It is a safe and natural extract from sugar cane wax.
It works by helping the liver control its production and breakdown of cholesterol.
Clinical studies show that policosanol is as effective as prescription drugs in lowering cholesterol, but without their dangerous side effects. For example, in a 6-week study policosanol reduced total cholesterol by 14 percent whereas another cholesterol-lowering drug lowered total cholesterol by only 12 percent.
Furthermore, specific clinical trials have been safely performed with elderly persons, diabetics, as well as individuals with liver damage or high blood pressure.
And this is much cheaper than any cholesterol-lowering drugs. It costs cheaper than US$ 30. Compare that to any other cholesterol drugs that range around US$ 100. See the table below for cholesterol-lowering drug prices.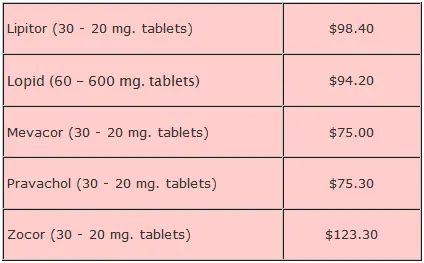 Leave this article on Lopid side effect and find out more about other cholesterol medications side effects.
Or after reading this article on Lopid side effects, make sure to check out All About Lowering cholesterol homepage, where you are going to learn much more about lowering cholesterol naturally.
All the Best