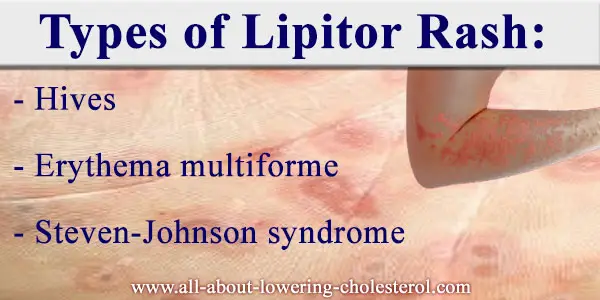 Being aware of the symptoms and prevalence of a Lipitor rash can possibly avert a serious health condition.
Lipitor is a drug used to lower LDL cholesterol and triglycerides in the blood but can cause a Lipitor rash throughout the prescription cycle. Almost every medication has some sort of side effect, some serious and many minors. Only a very small percentage of patients experience skin issues when taking Lipitor (less than 3.8%). You should immediately inform your physician if this side effect occurs.
You should also always read any information that comes with their prescription because even long-time users can develop complications over time.
Minor Lipitor Rash
A Lipitor rash can manifest in several specific conditions ranging from simply bothersome to potentially life-threatening. A relatively minor effect of this medication is flushing. This redness does not itch or burn and looks very similar to someone blushing.
Users can also experience minor itching, redness and dryness on any part of their body. Even these less serious problems should be reported to a doctor who can treat the irritation and monitor the patient.
Lipitor rash side effect – Hives
Hives are small itchy welts that are quite uncomfortable and can be a sign of a more serious allergic reaction to the medication.
A documented allergic reaction to Lipitor is Angioedema which is characterized by hives and swelling in the facial area as well as the throat.
The swelling to the throat can prevent the patient from breathing if severe enough so medical attention is required immediately.
Serious Lipitor Rash – Erythema multiforme & Stevens-Johnson syndrome
More serious skin reactions associated with Lipitor can include erythema multiforme and Stevens-Johnson syndrome. These side effects go beyond what most people would characterize as a Lipitor rash. Erythema multiforme is a red rash with lesions shaped similar to targets with painful blisters or pimples in the center. This rash is usually present on the extremities but can become a more serious form called erythema multiform major which spreads to the mouth and lips. (B.A. Wilson, 2010)
Stevens-Johnson syndrome sometimes starts with flu-like symptoms and then erupts into a rash that also affects the mucous membranes of the body such as the eyes, throat, mouth and genital area. (Atorvastatin, 2010)
It is common for blisters to form in the rash area and the skin surrounding these blisters can rub off very easily. Hospitalization is required treatment for Stevens-Johnson syndrome because it can be life-threatening.
Rare Lipitor Rash – Toxic Epidermal Necrolysis
A Lipitor rash which has been very rarely documented is toxic epidermal necrolysis. This condition is similar to Stevens-Johnson syndrome affecting the mucous membranes and characterized by a blistering rash. However, this disease also sees the top skin layer (epidermis) sloughing off in sheets all over the body. This can leave the patient exposed to infections and in some cases sepsis, more commonly referred to as blood poisoning. Thirty to forty percent of patients with toxic epidermal necrolysis die.
There is no way a physician can predict which side effects a person may experience when trying a medication. It is up to you to keep your health care provider informed about any changes in your body. The recognized danger of high cholesterol and its impact on health is a determining factor when weighing the side effects of taking Lipitor.